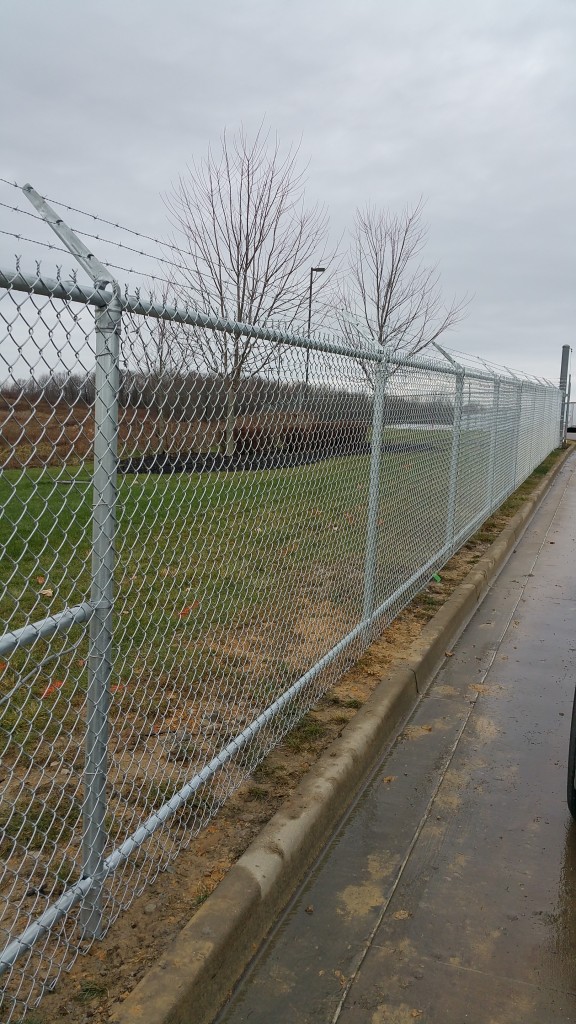 What is the best type of commercial fence for your business or commercial property in Columbus, Ohio and surrounding areas? This is an important question as there are a lot of considerations to think about when deciding on the type of fence you want to have installed. There are many factors and a lot of this depends on the type of business you own and where it is located.
Chain link fences are often best utilized in industrial areas for security purposes to help protect assets. This is often a low cost option in addition to the best option for security. Commercial chain link fences are often at least 6′ feet high with at least a 9-gauge. Commercial chain link fences are strong yet see through to give you the ability to see what is on the other side as well as provide less hiding space for intruders.
Wrought iron (steel) also makes a fine security fence. However, while wrought iron is much more attractive than chain-link fencing, it is also much more expensive. If you are looking for a more attractive commercial fence, then wrought iron or ornamental may be the way to go. These too are also usually at least 6′ high. Most ornamental fences are made of welded or assembled steel.
While steel is the most widely used material for ornamental fencing, homeowners and commercial property owners are finding aluminum fencing is an increasingly attractive option. While not as rigid as steel, aluminum ornamental offers superior corrosion resistance and low maintenance. The three primary types of ornamental fencing are:
Welded Steel Fence: Black (non-galvanized) steel components are welded together to form a section that is then primed and painted. During installation the sections are welded directly to the posts at the jobsite. The welds are then touched up with primer and paint. Depending on climate, welded systems can begin to show rust within a year and must be wire brushed and re-painted periodically. If you are considering welded steel panels it is recommend that you insist on a polyester powder coated finish over galvanized steel. I would review the company's installation method to ensure that jobsite welding is kept to a minimum. Since small weld shops produce much of this type of product, it would be wise to review the warranty and reputation of the manufacturer for a welded steel system.
Assembled Component Fence Systems: Most of the major fence producers make assembled component systems. Galvanized steel components (using a minimum G-60 zinc coating) are machine punched, and then given a polyester powder-coat finish. After coating, the components are assembled into sections using drive rivets or retaining rods. Assembled sections are attached to posts using brackets so the coating isn't compromised. This minimizes potential red rust problems.
Aluminum Ornamental Fence Systems: Manufactured similar to steel assembled components, these special aluminum-alloy components are powder-coated, then joined into sections using screws or pop rivets. Sections attach through brackets or holes punched in the posts. Aluminum ornamental should be considered for harsh coastal environments or when corrosive chemicals are nearby. If corrosion is more of a maintenance concern than strength and rigidity, aluminum may be your best alternative.
Hamilton Fencing has provided commercial fences in Columbus and central Ohio area since 2008. We have built our reputation on the quality of our work, materials and customer service. Give us a call today for all your commercial fence needs or fill out our online form to request a free estimate.
614.505.6237
About Hamilton Fencing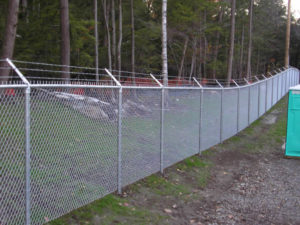 Just named one of Columbus, Ohio's top fencing companies, Hamilton Fencing is Columbus, Ohio's premier choice for residential & commercial fences.  We have been in business since 2005 and have established the trust of our customers through quality work at a fair price.  At Hamilton Fencing, our customers come first and we ensure that the work we provide not only looks great but that it is built with a solid foundation for a long lasting future!
Call Hamilton Fencing today for a free estimate on your fencing needs:
614-505-6237