Hamilton Fencing in Columbus, Ohio hopes that you all had a Merry Christmas! But now that it is over, a lot of us are starting to think about our new years resolutions and coming up with a lot of different ideas to help improve our health, our family and our homes. Sometimes when we start to plan out resolutions, they can seem overwhelming and when played out through the year, these hefty goals are the number one reason people often do not stick to them for very long(think about that last weight loss goal you implemented). We would like to provide you with a few ideas for your home this year that can help provide you and your family with peace of mind when it comes to safety, home value and beauty.
Your Homes Value
Installing a professional fence can often increase your homes value significantly. As long as it is done correctly and with the proper materials, a new fence can add a beautiful fenced in area that will increase your homes value. We help home owners with many different types of fences from: Privacy fences, aluminum fences, ornamental fences and more. We help our home owners from design to installation and ensure that the final result is one that you will love.
Fences For Security
Security of your family is often a concern for most homeowners we speak to. There are many different options of fences that can not only help with security from outside invaders of animals or neighbors, but also provide a nice look for your home.
Fences That Look Great
Hamilton Fencing provides many different types of fences that can help make your home look great. We work with many suppliers that provide custom designs and materials to ensure you get the exact look and feel you want for your home. We will work with you to custom build the fence of your dreams.
Call Hamilton Fencing today for all your fence needs in Columbus, Ohio and all of middle Ohio area. 
614.505.6237
About Hamilton Fencing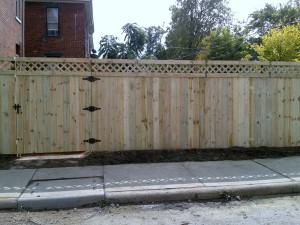 Just named one of Columbus, Ohio's top fencing companies, Hamilton Fencing is Columbus, Ohio's premier choice for residential & commercial fences.  We have been in business since 2005 and have established the trust of our customers through quality work at a fair price.  At Hamilton Fencing, our customers come first and we ensure that the work we provide not only looks great but that it is built with a solid foundation for a long lasting future!
Call Hamilton Fencing today for a free estimate on your fencing needs:
614-505-6237