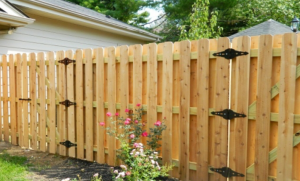 When it comes to the privacy of your Columbus, Ohio home, not all privacy fences are created equal. Hamilton Fencing has provided both residential and commercial privacy fences since 2005. Through helping our customers choose and design the right privacy fence that is best for them and installing the fence to withstand the test of time and weather conditions, we have built a superior reputation throughout Columbus and central Ohio for all types of privacy fences. We would like to show you some of the types of privacy fences that are popular with the homeowners we work with so that you can have the ability to choose what works best for you and your family. If you are looking for a privacy fence, feel free to give us a call or fill out our online form to request a FREE estimate.
Popular Wood Privacy Fences
A wood privacy fence is a great way to protect your home and family, especially if you have children or animals. Children can play without fear that they will wonder off or that someone will harm them, and you can keep animals without worrying whether or not they'll run off. Privacy fences also offer peace of mind by making it harder for a criminal to gather information about, or gain access to, your property. This means that your home is much safer. Privacy fences also help to keep prying neighbors out of your business. They can truly turn your home into more of a secluded area.
Wood is a popular choice for privacy fences because of its lower cost and if designed and built well, the beauty that it can provide for your family.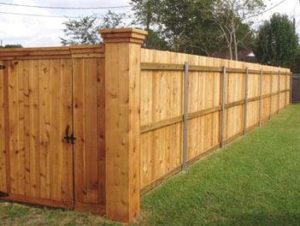 Board on Board Privacy Fence: A board on board fence looks attractive on both sides of the fence because boards alternate to either side of the central rail. Though boards are often tightly placed to eliminate gaps this type of fence offers a way for breezes to pass gently into the yard, as well.
Convex Privacy Fence: A rounded-top fence that is attractive and stylish. This fence style offers a "rolling wave" look that can be very soothing.
Dog Eared Privacy Fence: Uniform fences that are good for unusual property shapes because the uniformity of the pickets allows the fence contractor to modify the sections to fit your yard without breaking the flow of the fence on the "neighbor" side. Dog Eared fences also offer a lot of variety as far as the style of the top of the fence goes.
Lattice Privacy Fence: Lattice fences are extremely attractive and friendly to landscaping efforts. A tight pattern keeps you from feeling as though you are living inside of a fortress while continuing to offer real privacy by showing off very little.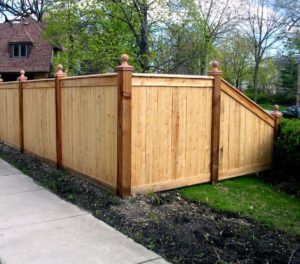 Lock Board Privacy Fence: These fences offer an elegant, uniform look. They do a great job of following the smooth, rolling lines of a property boundary while showing off their exquisite craftsmanship.
Estate Plank Privacy Fence: These plank fences are even smoother and more elegant than lock-board fences as there is nothing about the design to interrupt the smooth vertical flow of the wood. This creates clean lines and a sense of sturdy pride that few fence styles can match.
Stockade Privacy Fence: The jagged tops of the stockade fence make it an extremely secure option, offering discouragement to any potential climbers. The security does come, somewhat, at the expense of the fence's decorative qualities.
Picket Privacy Fence: Picket fences are traditionally associated with warm, happy homes. This fence keeps children and animals safe while giving your property a more inviting look.
When it comes to choosing a wood privacy fence style, we can help! Meeting with a fence contractor can help you determine which of the fence styles will be a good match for your home while meeting all of your needs. Contact Hamilton Fencing online or give us a call at 614.505.6237 for a FREE estimate.
About Hamilton Fencing
Just named one of Columbus, Ohio's top fencing companies, Hamilton Fencing is Columbus, Ohio's premier choice for residential & commercial fences.  We have been in business since 2005 and have established the trust of our customers through quality work at a fair price.  At Hamilton Fencing, our customers come first and we ensure that the work we provide not only looks great but that it is built with a solid foundation for a long lasting future!
Call Hamilton Fencing today for a free estimate on your fencing needs:
614-505-6237