With all the various types of fences out there to choose from, aluminum fences are becoming one of the most popular types of fences being built in Columbus, Ohio. Hamilton Fencing would like to provide you with the benefits of aluminum fences so you can make the best decision for you and your family.
BENEFITS OF ALUMINUM FENCING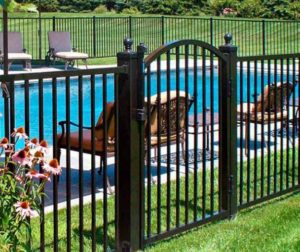 Aluminum fencing is a common option for many fence applications but what are its benefits? We will be detailing the primary benefits of aluminum fences for your reference.
Cost: Aluminum fencing costs much less than traditional wrought iron fences. True wrought iron fencing must be fabricated in our shop with more expensive metal as compared to aluminum fences that are manufactured.
No Rust: Aluminum does not rust like iron, which is classified as a ferric metal which will oxidize and rust. Aluminum is not a ferric metal and will not rust. It's estimated that aluminum can take over 10,000 years to disintegrate.
Low Maintenance: Unlike wrought iron fencing, aluminum will not need to be painted every few years. When manufactured, our aluminum fencing receives multiple protective coats including a powder paint coating that will last without needing to be repainted. With wood fences, you will need to maintain the wood on an annual basis to maintain the appearance and durability.
Esthetics: Aluminum fencing provides low maintenance containment and security while looking great. Black metal fencing blends with almost all landscapes and is available in a variety of styles.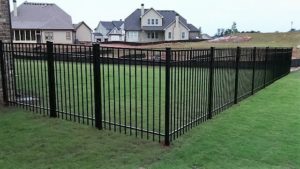 Security: Wood fences can easily be scaled and chain link fences can easily be cut while aluminum fencing with spear-topped pickets is a much harder fence to breach.
Rakablity: Most good aluminum fence panels are rackable meaning they can adjust to the slope of your land. If your fence is not rakable, then it can and will leave unsightly gaps at the bottom of the fence when going up or down a grade.
Warranty: Our aluminum fences come with a lifetime manufactures warranty.
Call Hamilton Fencing today for all your aluminum fence needs in Columbus, Ohio and surrounding areas or fill out our online form to request a FREE quote.
614.505.6237
About Hamilton Fencing
Just named one of Columbus, Ohio's top fencing companies, Hamilton Fencing is Columbus, Ohio's premier choice for residential & commercial fences.  We have been in business since 2005 and have established the trust of our customers through quality work at a fair price.  At Hamilton Fencing, our customers come first and we ensure that the work we provide not only looks great but that it is built with a solid foundation for a long lasting future!
Call Hamilton Fencing today for a free estimate on your fencing needs:
614-505-6237