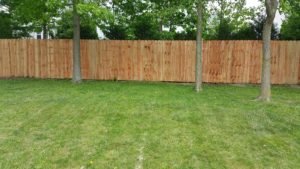 When it comes to residential fences in Columbus, Ohio, what would you look for in order to have the best fence contractor install your existing fence? There are many "companies" or individuals willing to take on becoming a fence builder however not all fence contractors are equal. There are several things that you should not only look for when hiring the right fence contractor, but also watch out for as you are working with them through the process.
Make sure that you always do your homework before you spend your hard earned money and invest in a new fence for your family.
Always Ask Questions
How long have they been in business?
Are they licensed and bonded?
Do they have recommendations for your fence in regards to type, size, etc. If they don't have recommendations then they probably have not been doing this too long. Most experienced fence contractors have seen enough to provide some helpful advice, no matter whether you use it or not, in constructing a new fence.
Will they pull the proper permits for you?
Are there easements or other hindrances they need to build around?
What are the city codes and ordinances?
What warranties do they offer?
Ask for References
Ask your fence contractor for references or at a very minimum pictures of fences they have done in the past. They should have a gallery of pictures on their website of past projects that you can glean from. If every picture on their website is a Google image, then that is your first sign to call someone else.
Hamilton Fencing has been in business since 2005 and is one of the best fence contractors in Columbus, Ohio area. We were named one of the best fence companies by Expertise in 2018. We are fully licensed, bonded and insured to give you the peace of mind you need when hiring a fence contractor. Check out our website for some of the fences we have built for both homeowners as well as commercial properties.
Give us a call today for all your fence needs.
614.505.6237
This slideshow requires JavaScript.
About Hamilton Fencing
Just named one of Columbus, Ohio's top fencing companies, Hamilton Fencing is Columbus, Ohio's premier choice for residential & commercial fences.  We have been in business since 2005 and have established the trust of our customers through quality work at a fair price.  At Hamilton Fencing, our customers come first and we ensure that the work we provide not only looks great but that it is built with a solid foundation for a long lasting future!
Call Hamilton Fencing today for a free estimate on your fencing needs:
614-505-6237