When it comes to metal fencing, you have several options to choose from. Hamilton Fencing, in Columbus, Ohio, would like to provide you with a few options along with the advantages and disadvantages for when you are looking to add a metal fence for your home or business. Metal fencing has long been reliable, long lasting, attractive, and aside from stone, the strongest of traditional types of fencing. There are three main types of metal fencing: aluminum, wrought iron and chain link fences. All have their strong points and weak points, but any of them will be a great choice to use to build your fence.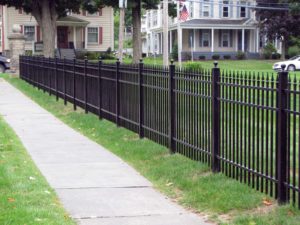 Aluminum Fencing: One of the strongest, most durable and maintenance free of your metal fencing choices is aluminum fencing. It is also very affordable, and installation is usually quick and easy. Most aluminum fencing is also almost as strong as steel so it also offers strength and security, but it is still aluminum so it will resist oxidation and will not rust. This offers a virtual lifetime of maintenance free service.
Aluminum fencing comes in primarily black and white, but can easily be painted to match any landscape or theme. As far as styles and designs go, there are literally hundreds of different styles, shapes and design combinations available to create your fence. The only real disadvantage is that aluminum is not quite as strong as wrought iron.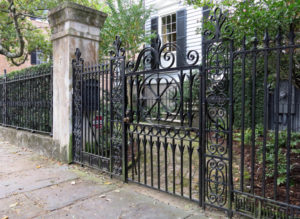 Wrought Iron: Wrought iron fencing is the strongest of all the metal fences and has been used for centuries for its elegance and beauty. Wrought iron fencing is the most ornate of all the metal fencing, and can be custom designed to any style or shape, which is why it has been used for so long. It is the most elegant looking, but aluminum does come very close.
Wrought iron fencing comes in black and white, but can be painted to match any type of landscaping or theme. Also, as with aluminum, wrought iron fencing comes in literally hundreds of different styles and combinations.
The only disadvantages to wrought iron are it is a metal, and although painted is susceptible to oxidation and rust, and does require periodic maintenance like sanding and painting. It is also the most expensive of the three options.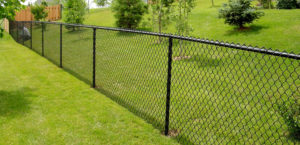 Chain Link Fencing: Chain link fences are of course nowhere near as elegant as aluminum or wrought iron fences, but they are very affordable, very functional, and provide years and years of service. They are easy to install and will add safety and security to your home or business. When you need an inexpensive, strong, secure fence, to keep children and pets in or to keep others out, a chain link fence system is always an excellent choice.
Chain link fencing, although not adding much in the way of beauty or looks, does add a solid boundary and good level of security to your home or business.
Give Hamilton Fencing a call today for all your metal or any type of residential or commercial fencing needs:
614.505.6237
About Hamilton Fencing
Just named one of Columbus, Ohio's top fencing companies, Hamilton Fencing is Columbus, Ohio's premier choice for residential & commercial fences.  We have been in business since 2005 and have established the trust of our customers through quality work at a fair price.  At Hamilton Fencing, our customers come first and we ensure that the work we provide not only looks great but that it is built with a solid foundation for a long lasting future!
Call Hamilton Fencing today for a free estimate on your fencing needs:
614-505-6237