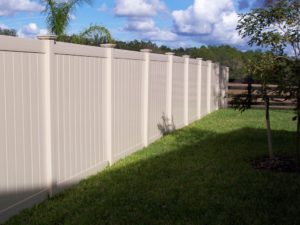 If you are looking for a new fence for your home, privacy fences are some of the most popular fences in Columbus and central Ohio. There are many benefits to a privacy fence and Hamilton Fencing would like to provide some of these benefits as you begin your research. Most often people think of wood fences as the type of material for a privacy fence however vinyl fence is another good option as well. Check out some of the reasons that most homeowners decide on a privacy fence versus another type of fence below.
Give Hamilton Fencing a call today or fill out our online form to request a FREE estimate for your privacy fence needs:
614.505.6237
Benefits of a Privacy Fence
Shelter: Installing a privacy fence over any other type of perimeter barrier will provide your property with some shelter from the elements. The fence will act as a windbreaker to prevent the wind from affecting you, your plant life and your property. Depending on the positioning of the fence and of your home, this can also provide shade when it is required.
Decoration: If your garden comprises landscaping that could be accented by additional decoration, using a privacy fence will be the better option to enable this to take place. Whether you intend to paint it or add staining so that it matches other elements of your garden, this will be easier to achieve with this type of fence over any other. These fences are also most likely to be made of materials that will accept paint or decoration easily.
Variety: One of the main benefits of using a privacy fence is the wide range of styles and materials available on the market. This will make it easier to find an option to suit your needs as there will be a color and type of wood to match the other components of your garden. This will also help you to stick to a budget if you have one as there will be a range of prices. If you are concerned with the environment, you can also be satisfied that there are sustainable materials that can be used for your fence.
Protection: A privacy fence provides protection not only to help keep young children and animals within the boundary, but also to keep intruders and stray animals out. It will help your property to remain hidden from prying eyes and will reduce the temptation for children and animals to stray. Your property will benefit from having a clear indication of where the land separates from the neighboring property.
Maintenance: Privacy fences are designed to last quite a long time and will only require a little maintenance to stay in good shape. An unfinished fence can be protected with a few coats of varnish and surface debris can then be cleaned away with a cloth and soap and water. Loose fasteners can be tightened or replaced when and if it becomes necessary to do so to ensure that the fence remains stable. Any spots of rust can be removed with sandpaper or a wire brush before being treated to sop it from returning. Insect infestations can be taken care of with the same insecticides and repellents that can be used in the home.
Noise: Where the dimensions and materials are sufficient, this type of fence can lessen the amount of noise that your yard suffers from beyond the fence. The presence of the fence and the thickness of the same will serve to dampen down noise so that it is not as intrusive as it would be with another type of fence or with no barrier at all.
Give Hamilton Fencing a call or fill out our online form to request a FREE fence estimate. We provide all types of fences from privacy fences, aluminum fences, vinyl fences, and commercial fences. 
614.505.6237
About Hamilton Fencing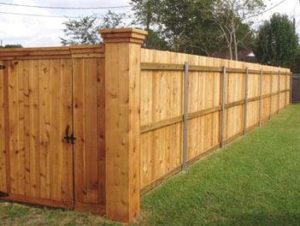 Just named one of Columbus, Ohio's top fencing companies, Hamilton Fencing is Columbus, Ohio's premier choice for residential & commercial fences.  We have been in business since 2005 and have established the trust of our customers through quality work at a fair price.  At Hamilton Fencing, our customers come first and we ensure that the work we provide not only looks great but that it is built with a solid foundation for a long lasting future!
Call Hamilton Fencing today for a free estimate on your fencing needs:
614-505-6237