When it comes to choosing the right fence for your home and family, there are a number of things to consider. Hamilton Fencing in Columbus, Ohio has helped homeowners throughout Columbus and central Ohio choose not only the type of fence that is best for their unique needs and personalities, but also provides custom designs and layouts that fit the requirements of each individual family that we work with. We wanted to provide you with a few things to consider when choosing the best fence for your home in Columbus and central Ohio area.
Steps To Choosing The Right Fence
Get to Know Your Priorities
Why are you looking for a fence? This could be a single reason as to protect your children and family from neighborhood animals and strangers or could be potential reasons to include: fence protection and security, keeping pets and children in your yard, privacy fence to keep nosy neighbors from seeing what you are always doing as well as many more. Always understand your priorities and list them in order of importance.
Understand Restrictions and Codes of the Neighborhood
There are some areas which impose restrictions on the type of fence you can install on your property. A majority of the cities and also homeowners association have certain rules and regulations about the height and dimensions of the structures. Hence, you need to research about the various codes imposed by the neighborhood.
Understanding the city codes and HOA requirements is imperative so you do not do anything that will require your fence to be re-built or moved.
Fence Maintenance
How often are you willing to maintain your fence? A wooden fence will need the greatest degree of maintenance because painting and staining is required every few years. Although wood fences are generally attractive and lower in price up front, there is up keep to maintaining a wooden fence without it looking old and rotting.
However, aluminum fences and vinyl fencing will not require much maintenance. This is the primary reason most people take this to be the best choice for house however the upfront cost is often a little bit higher.
Understand Your Budget
Understand the higher end of your budget so that you do not exceed your financial means. Get quotes from professional fence contractors and ensure everything is included upfront. You may even look at multiple quotes for different types of fences if you are able to have options based on your needs.
Check the Designs
A good fence contractor will be able to provide design options for you. No matter whether you are looking at a wood privacy fence, aluminum fence, or wrought iron fence, there will be many design options to make your fence look the way you want. A nice fence design can also increase the value of your home if done correctly.
Hamilton Fencing has provided the highest quality fences in Columbus, Ohio and central Ohio for over a decade. Our reputation has been built on quality and customer satisfaction. Give us a call today or fill out our online form to request a FREE fence quote.
614.505.6237
About Hamilton Fencing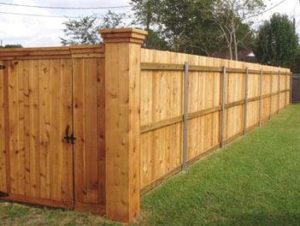 Just named one of Columbus, Ohio's top fencing companies, Hamilton Fencing is Columbus, Ohio's premier choice for residential & commercial fences.  We have been in business since 2005 and have established the trust of our customers through quality work at a fair price.  At Hamilton Fencing, our customers come first and we ensure that the work we provide not only looks great but that it is built with a solid foundation for a long lasting future!
Call Hamilton Fencing today for a free estimate on your fencing needs:
614-505-6237